See what not to do and see how we fixed it!
Get Wired! 0113 3909670 | 0770 3020260 | 0800 7797472
When underfloor heating goes wrong and fails it can be for a multitude of reasons.
A broken underfloor heating element in our installation areas namely Leeds, Bradford, Wakefield, York & Harrogate can be for several reasons.
The quality of the installation
The quality of the element
The age of the element.
Mostly, from experience i speak here it is the quality of the installation and how the underfloor heating element was laid in the sub floor. The answer to this when you uncover the installation of it reveals why it has failed.
Read on………
Today we uncovered a underfloor heating lose wire element on a timber sub floor. The element failed and the timber finished floor finish was identified as to having to be removed to get to it.
Now let me be Frank!, i am Marc but for now i will be Frank lol, when as a professional underfloor heating installer in Leeds, Bradford, Wakefield, York & Harrogate i see this i get angry because it is not right, it was not installed correctly, the installation was a shower of cat crap and me and my team put it right, here is what we saw today when we removed the kitchen flooring!
The above image shows some person installed a lose wire underfloor heating element in a residential domestic installation in Leeds and this customer paid for the works, this customer paid good money to a builder thinking they were getting a quality underfloor heating installation in their Leeds home. What they got was a poor unprofessional effort which was doomed for failure from the start, dooooomed i tell you! here is why.
Underfloor lose wire heating elements have a thin pvc outer core protecting a metallic sheath and two inner cores, these cores are sensitive and small in overall mm2 diameter, hence they need what we call in the underfloor heating trade "mechanical protection", this comes in the form of the screed. The screed is the mechanical protection we encase the lose wire underfloor heating element in as to stop the outer elements (flooring) from wearing it down via friction.
In this case the underfloor lose wire heating element was exposed on the surface of the screed therefore the day to day walking use of the floor wore it down over several years and eventually it broke through the outer skin of pvc and the inner cores of the underfloor heating elements short circuited and went boom. (No More underfloor heating element). See below
Now i know what you are thinking, great fix the break as illustrated by underfloor heating engineer Ricky of MPS Electrical Ltd 0113 3909670, erm no. The rest of the system is exposed so by repairing this break still leaves the whole system exposed to friction and the same thing happening again.
What to do and in this case this is what happened.
The existing finished floor removed
Skirting boards removed
New floor insulation added to the sub-floor (don't want our underfloor heating heat going down do we now!)
A new MPS Electrical Ltd custom designed infra red carbon heating system overlaid on new flooring insulation, a new underfloor heating vapor barrier installed and new finished floor re installed.
Here is the first fix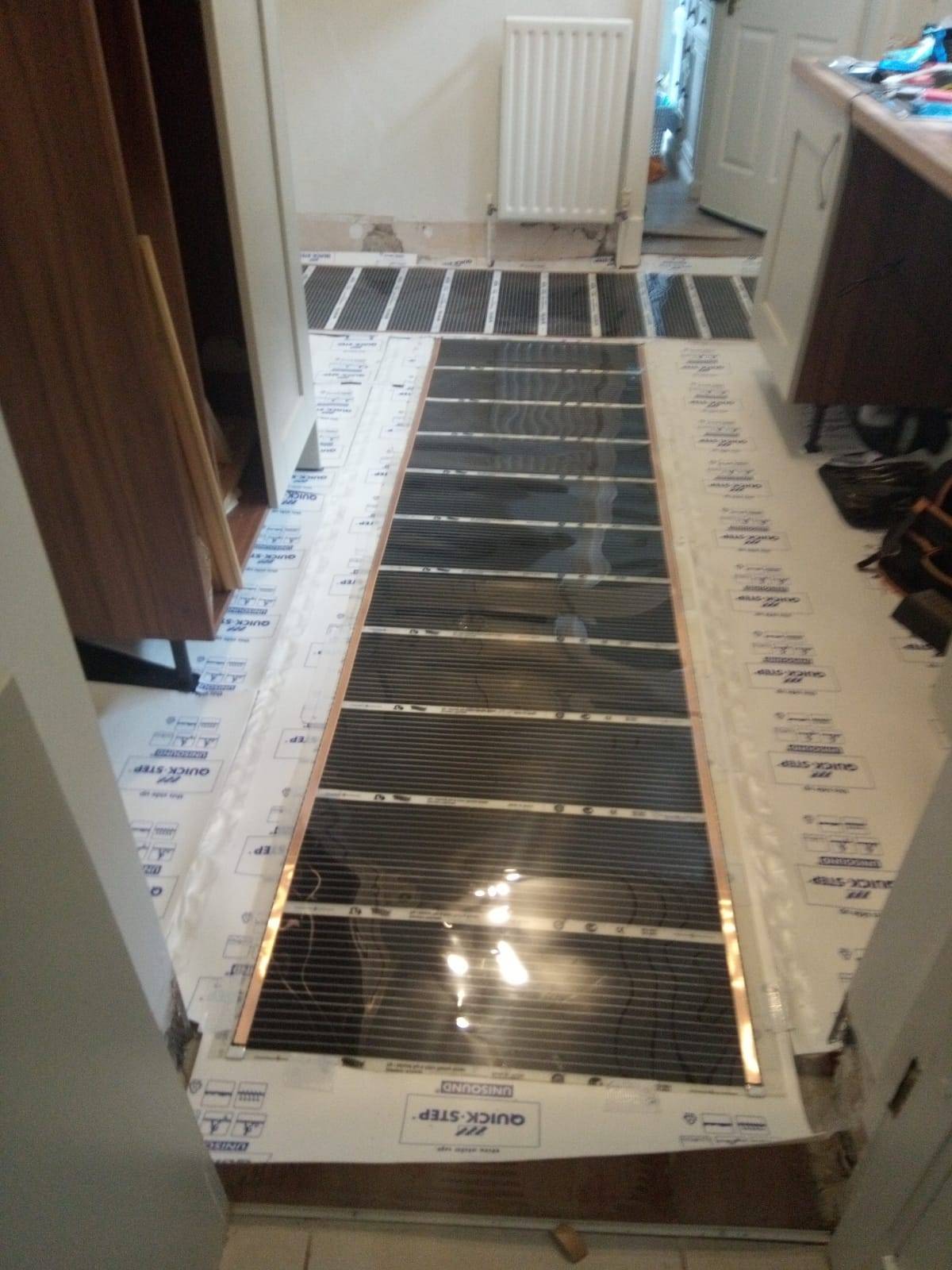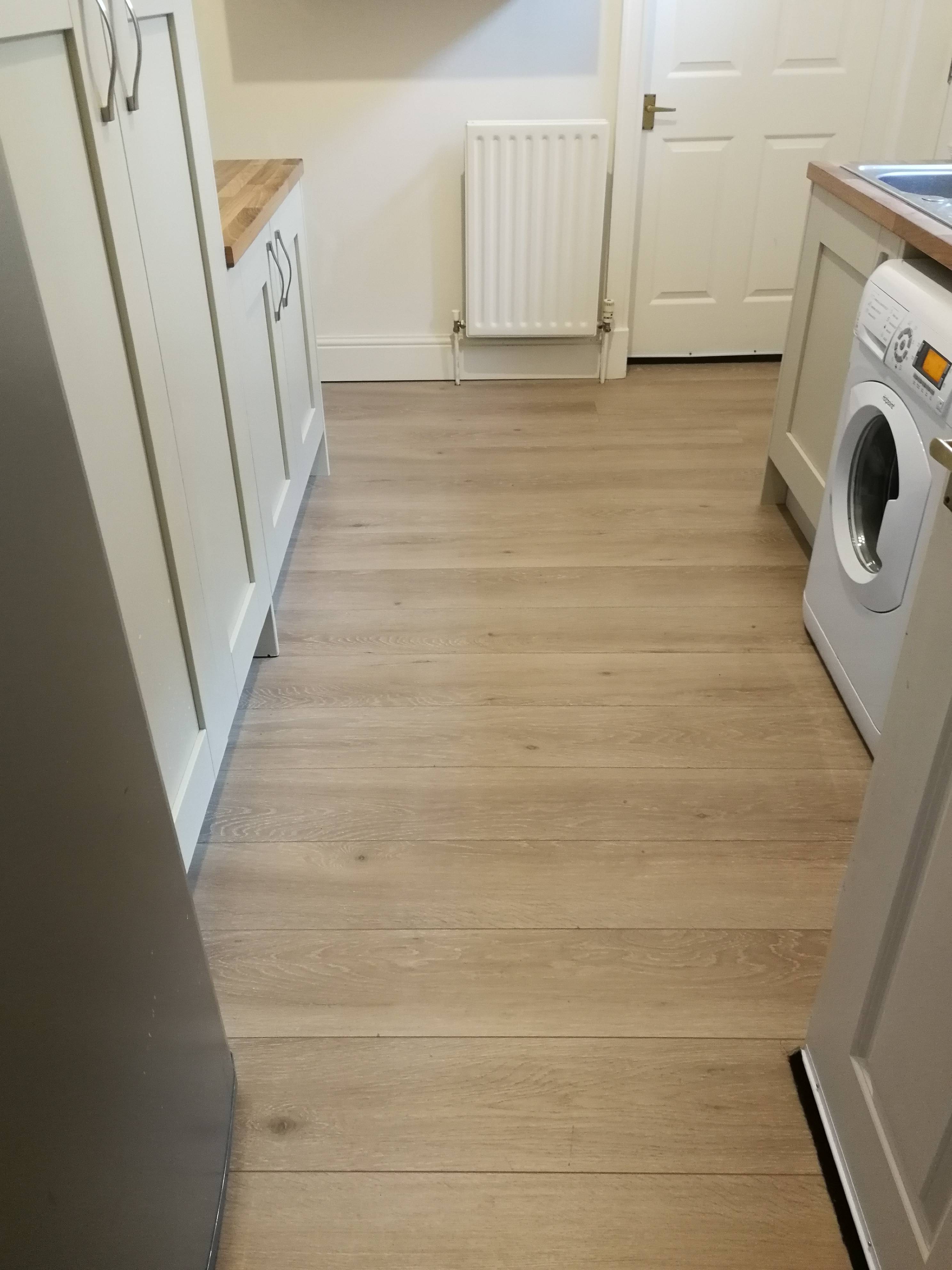 So here we have a full brand new underfloor heating system installed by Specialist Underfloor Heating installers MPS Electrical Ltd Leeds 0113 3909670, If you need a new underfloor heating system in Leeds, Bradford, Wakefield, York & Harrogate please give us a call for a free no obligation quotation or email us at Info@mps-electrical.com