Are you thinking of having a Home Electrical Rewire on your Leeds Home ?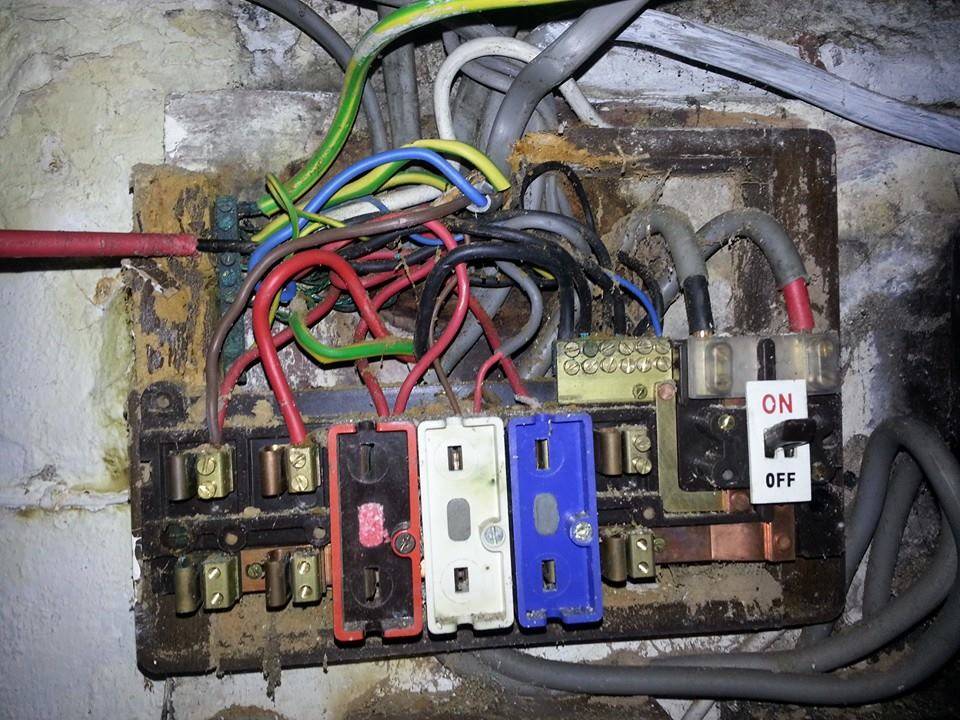 From the initial First fix of the Home Electrical Rewire to the completion phase second fix you can rest assure that MPS Electrical Ltd have the work in hand.
With a dedicated rewire electrical team our staff have the experience and know how to conduct a high quality home rewire in your home at a fixed price, we even plaster up after ourselves to finishing standards and protect all your floors and belongings with coverings during the rewire process.
All our Home Electrical Rewires In Yorkshire come with a 10 year parts and labor warranty, All work fully certified and certificated by a Ltd company for peace of mind. Fixed price affordable, quality home rewires by reputable electrical contractors.
Rewiring Socket Circuits In Leeds
We install dedicated ring mains during the home electrical rewire throughout the property to spread the load of modern appliances these days, a dedicated ring main for the kitchen, ground floor and 1st floor
Rewiring Lighting Circuits In Leeds
We install a dedicated lighting circuit per floor within the property to spread the load throughout the property. All of our Home Rewire Packages along with Fire Rated LED lighting if required.
Fire Rated Metallic RCBO Fuse Box fitted as standard not the cheaper dual RCD variant.
As standard in all our Home Electrical Rewires you get a metallic fire rated Wylex RCBO fuse board complete with RCBO circuit breakers. This is not to be confused with the dual RCD fuse box that we do not recommend.
What is a quality Home Electrical rewire In Leeds ?
A quality home electrical rewire by mps electrical ltd will ensure all twin and earth cabling is clipped to the joists underneath the floors and above the ceilings, we use the highest quality of pvc twin and earth cabling. We ensure all cables are capped and no joints are concealed underneath the floors or above the ceilings.
All our switches, sockets & light fittings are decorative and molded backed up wit a 10 year warranty from us. We ensure the materials we install in your home as part of the home electrical rewire are the best branded quality on the market.
MPS can also install home security during the rewire in the form of a fully wired intruder alarm system, our alarms text and telephone up to five people on activation and are fully programmable.
When is Rewiring A House Necessary?
If a property has not already been rewired within the last 30-40 years, the chances are it will need the internal wiring of the house upgrading fully or at least in part of it in order to bring it up to current 18th edition wiring regulations and modern day standards in terms of the amount of power points required within a home.
The lead outer sheath, TRS rubber wiring may be breaking down or the older pvc may be missing the earth cpc cabling within the cable (1960s wired houses) all in all this can be potentially dangerous and the current wiring system may not be able to cope with the demands of modern living.
If you plan major remodeling work that constitutes a material alteration as defined by the Building Regulations, it is likely that you will need to rewire part, if not all, of the property, including upgrading the consumer unit (fuse box) to a RCD / RCBO metal clad 18th edition fuse box which is now fire rated as per the regulations.
If you are extending your home, or converting the loft, garage or outhouse, this will constitute new work because new electrical circuits need to be installed and as such therefore all of the new wiring will have to conform to Part P of the Electrical Building regulations. The existing wiring may have to be improved to ensure that it is able to carry the additional electrical loads safely.
How to Tell if Your Property has Been Rewired
You can take the easy route and call us MPS Electrical Ltd 0113 3909670 for a free House Rewire Survey In the Leeds area.
If you want to have a look around the house yourself then you should be able to tell if a house has been rewired recently by inspecting exposed parts of the wiring that you can see. By looking at the visible cables that enter the fuse box (now known as the consumer unit) this will give a visual indication how new the pvc outer sheath is. The fuse box may have a sticker on it when It was installed so you can see a specific date, this won't mean the wiring is the same age but is a idea that if the fuse box was fitted by a competent electrician then all the circuits connected inside the fuse box would have to be of a standard that passes the current regulations or he wouldn't be able to reconnect them back up again. You can ask the current home owners if you are thinking of buying a property however I personally would advise on our Home Buyers Electrical Surveys, https://www.mps-electrical.com/electrical-surveys-leeds-htm/
If there is an old-fashioned-style fuse box, with big white ceramic-style fuses, then the chances are that the property needs completely rewiring.
With two or more sets of circuits all connected up together like these old fuse boxes are, it can be very difficult and almost impossible to know what circuit does what in the house, especially when a fuse blows and plummets the house into darkness!
when undertaking work on these old style fuse boxes I have known them explode when the cabling outer sheath integrity breaks down and this is unsafe. Another tell-tale sign that a rewire may be necessary is a mix of different socket and switch styles in the house. This could indicate that a partial rewire has taken place, especially if there is evidence of surface-mounted wiring running along skirting boards and up walls.
In some rare cases of properties that have not been renovated within four to five to six decades, you may still find example of old round pin sockets or original dolly switches, both of which are a sure sign that a rewire is necessary.
Another clue is the colour and style of the cabling, which you should be able to see at light fittings, around the fuse box. Modern electrical installations are wired in Pvc insulated cable coloured grey or white, and a modern consumer unit will have circuit breakers and residual circuit devices (RCDs).
What if it has not Been Rewired?
Unless the wiring is the modern Pvc coated type, then a rewire is likely to be necessary. If you see any old rubber insulated cabling, fabric insulated cabling (used until the 1960s), or lead insulated cabling (used until 1955) then it needs replacing as the insulation can rot and/or break down, leading to short circuiting: a fire hazard and potential electrocution.
Even older Pvc cable may need replacing if it is not twin earthed cabling (with a second earth cable running within the outer sleeve the cpc earth core), but this may only be evident if you are able to remove a switch or socket face plate and look closely.
Checking for this conducting the viewing, and certainly is not advisable unless you are able to turn off the mains first.
If you are in any doubt, assume that a total rewire is required and budget accordingly. It may be that the system can be improved for less money by upgrading earthing and cross bonding.
How Much Does an Electrician's Survey Cost?
If you proceed with the project, then before exchanging contracts you can arrange to get a qualified electrician to do a survey and find out exactly what work is required.
An electrician will typically charge £100-150 for a survey with a verbal report.
A full electrical survey with a written report is likely to cost £150-250.
See our Home Electrical Buyers & Survey Sellers page here
Before Your Rewiring Work Starts
Plan the House Rewire carefully, think about everything you need
Rewiring a property is a messy job, it is very disruptive work. It happens in two stages: The electrical first fix, when cables and wiring are installed, and second fix when everything is joined up or made 'live', subject to all dead tests first to ensure all the new circuits are in order, then the front faces of sockets, switches and lights are fitted.
The cable runs of wires go everywhere in a newly rewired home: under floors, through walls and across ceilings, so first fix is best done without carpets or furniture in order that floorboards can be lifted, and ceilings cut into. The new sockets and switches generally needs to be chased into the walls.
This is why it's important to plan what's going where in each room before starting the first fix stage, we take the pressure out of this by doing free floor plans of the electrical layout, so you know where you need lights, plug points and any other electrically driven items.
One way to prepare is by drawing a plan of your home with each room on graph paper and marking up the position of beds, sofas, kitchen units and so on. You can then consider the lighting and switches required. Little things like under-cabinet and bedside lighting, house alarms, plinth lighting and security lighting are easy to do when planned from the start, but costly to undertake later. As well as thinking about task, mood and feature lighting, remember smoke and heat alarms, garden RCD safety sockets and external security lights.
Think about future proofing
Today we are a super-consuming society hooked on 'tech'. In terms of SMART electrics, this means mood lighting, surround sound, high-speed Wi-Fi, kitchen gadgets and TVs in the bathroom. Electrical circuits must be up to the job — and you need to plan forward thinking.
Do you want Ethernet cable to every room to ensure uninterrupted Wi-Fi (or perhaps just living spaces and bedrooms)? Will you want speakers in each room or a security system?
Move out if possible
Full rewires usually happen when homes are empty, but for hardened homeowners it is possible to live in one room while having works happen around you. If you can't move out, then dust-cover furniture and expensive items, preferably moving electrical equipment into a separate room, as this is not your electrician's responsibility. Get your electrician to install the new consumer unit and prep your habitable room with a temporary supply of sockets.
Rewiring Work
How Much Will Rewiring Cost?
The cost of rewiring, including first and second fix with standard sockets and switches and excluding light fittings, should be around £1,000-£1,500 for a kitchen extension. The UK average cost for rewiring a three-bed semi is £3,500; the price will vary depending on where you live. Other variables include the size of the house, how accessible/empty the property is and the complexity and standard of the finish.
Very often, a full rewire can be avoided, however; providing the existing cabling is sound and able to carry any additional loads, it also may be possible to upgrade it by adding a modern consumer unit, proper earthing arrangements and cross bonding.
How Long Will the Rewiring Take?
A kitchen rewire may take two days, a three-bed semi probably two days to first fix, then the same again to second fix. A larger property will take much longer.
What is Involved When Rewiring?
If rewiring work is required, it should be undertaken at first fix stage (before plastering), at the same time as any central heating and plumbing work. New cabling cannot be surface mounted and so the installation will involve lifting the floor coverings and floorboards and possibly skirting boards too, routing out channels in the walls and possibly in some ceilings that are inaccessible from above. All of this work will cause major disruption and so it is best not to try and live around the work if possible.
As well as installing new cabling, first fix stage will involve fitting new back boxes for all sockets and switches. In addition to rewiring for all power and lighting circuits, it is a good opportunity to rewire for modern central heating controls, alarms, smoke detectors and doorbells, to outdoor security lighting and sockets, and to rewire the telephones and television aerial sockets. It is also worth redesigning the wiring plan for sockets and switches to make sure it meets your needs and those of modern-day home buyers.
All our electrical home rewire quotations come with a comprehensive extras list so nothing is missed off the new home rewire when it is being conducted, our extras range from extra aerial points, data points, outside LED security lights, underfloor heating, down lights, garage power and lighting, external sockets, the works! you name it we can install it.
<