Here at MPS Electrical Ltd we supply and install a wide range of Intruder Burglar alarm systems to suit the customers requirements.
SMART technology has now interfaced with modern day alarm systems offering multiple new functions to new wireless SMART Alarm installations.
If you have solid wooden floors and do not want the mess of having your carpets removed and floorboard taken up to run cables then a MPS wireless alarm is the solution to your needs.
We install several types of wireless alarm systems, Vi sonic, I-On Systems & Honeywell.
We have always stuck to branded quality manufacturers with our alarm systems, we do this because there are some systems which do not meet the quality standard we expect. I have been fitting alarms for over 25 years and seen some poor systems thus making me stick to brands with a comprehensive warranty which we pass on to you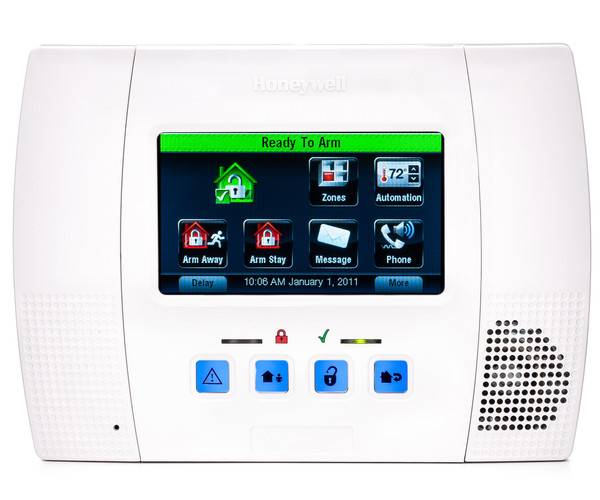 Wireless LCD Touchscreen Alarm systems in Leeds, Bradford, Wakefield, York & Harrogate.
Fixed price installation, no monthly contract involved, our alarms telephone & text you!
We also install hard wired alarm systems, the difference between a wireless home alarm in Leeds and a wireless home alarm in Leeds is wireless alarm components i,e sensors and sounders are battery operated and rewire maintenance every 12 months because batteries do not last forever.
A hard wired mains alarm does not require component battery replacements and only has one main back up battery in the control panel and external sounder, these we advise get swapped every 24 months.
A hard wired burglar alarm has wires that need installing from the main panel to each sensor, keypad and sounder and this is where running cables within the home is involved. We endeavor to run cables where they cannot be seen, sometimes this involves some minor wall chasing in order to conceal the cables. We do plaster up the chases to save you the hassle.
Again our hard wired alarms are branded Honeywell systems and come in two variants, LCD keypad & LED keypad variants.
Pet Proof Sensors – Yes you can leave the cats & dogs in the house and set the Alarm with a MPS Alarm system.
MPS Intruder Alarms systems in Leeds are pet friendly to cats & dogs, our room passive infra red room sensors know the difference between a human and your pets so you can arm the alarm system and protect your home.
Call us today for fixed price Alarm quotations! 0113 3909670 – 0770 3020260