Thinking of Underfloor Heating installed ? Read on
Leeds – Bradford – Wakefield – York & Harrogate
Call 0113 3909670 | 0770 3020260
Some of our Installations to browse
About to be ripped out

Ripped out and primed

Element laid (i did fill the gap, gutted it fell short)

Screeded and left to dry

Finished tiling

Smart WIFI Controller, we did plastering up too

Our Infra red system

Our Infra red system

Finished Engineered Oak floor

Finished Engineered Oak floor

Finished Engineered Oak floor

Under tile screeded heating system

The finished Screed

underfloor heating element laid

Screeded underfloor heating element

Tiling nearlly done

Finished tiled heated floor

Finished tiled heated floor

Finished tiled heated floor

Finished tiled heated floor

Finished tiled heated floor

This took alot of screed

Ripping out a tiled floor to replace with a heated oak floor finish

screeded result

Floor insulation laid

Infra red heating system installed

Finished Oak Engineered Flooring

Elements laid

All screeded

Elementss laid out but not under units

Finished Oak Heated floor

Finished Oak Heated floor

Underfloor Heating Leeds
Who we are & what do we do ?
MPS Electrical Ltd are electric under floor heating specialists in Leeds. We are Part P 18th edition Amendment 2 approved Electrical underfloor Heating Specialists based in Leeds that install & maintain electrical underfloor heating systems both carbon infra red systems & lose wire electrical heating Matt systems.
What type of sub flooring types can you install electrical underfloor heating on ?
We can install under floor heating on concrete & wooden timber sub floor including screeded floors.
All our under floor heating systems installed in Leeds are custom made to suit the area in which they are installed to serve which involved a site measure up.
MPS also install the finished flooring product too from tiles to oak engineered flooring and offer a wide range of choices for our customers.
All of our under floor heating systems come with a range of different thermostatic controllers ranging from standard controllers to SMART programmable electronic controllers that you can operate from your mobile phone.
Different sub floors within the home call for a certain type of under floor heating system, these vary in overall wattage output to heat the final finished flooring whether it be wooden, luxury vinyl or ceramic tiles. Best thing to do is give Marc a call and he will happily share with you over 27 years of fitting experience on your requirements.
This is why when selecting underfloor heating systems for a room it is best to contact a specialist who can advise what type of under floor heating system you require based on the type and usage of the room it is to be installed in and the finished floor etc. If I had a pound for every time someones called me up to fix a DIY underfloor heating system fitted by either themselves or the tiler on the cheap and its gone belly up, I would be a millionaire now indeed reading this from the Bahamas!
Can you install underfloor Heating in the Bathroom to warm and dry the floor as its like a swimming pool after bath time with the kids……..
As Bob the Builder once said Yes we can!
Bathroom areas have to be tiled and also require a specific under floor heating system. The lose wire system because a bathroom is a wet area and as such the under floor heating system elements must be protected from water ingress. So in this case we screed them in like we do all lose wire underfloor heating elements that are to be fitted under ceramic tiles.
In the bathroom zones we install a lose wire under floor heating system and enclose the elements in a protective screed on top of a tile backer board as not to ruin your sub floor. This is also advised so the floor tiler does not damage the under floor heating elements with his trowel when fixing the tiles down to the floor, we have seen this done many times before! It also stops the movement of the floor which causes elements to break after a few years which we go out to routinely when this happens on systems installed by those not in the know.
It does not matter if the sub floor is wooden as MPS can lay a special screed to encase the element into its own special screed suitable for wooden sub floors so do not fear we can install electrical underfloor heating on pretty much any floor.
Thick Travertine floor tiles with underfloor Heating ?
Yes we Can! I am on a roll with this now… read on, Some tiles namely Travertine can be especially thick floor tiles, as such we have varying output wattages 160/200/220 watts per m2 range of under floor heating lose wire cables which can compensate this so the heat penetrates through the tiles quickly and effectively. Combined with our electronic controllers the end results are a fully heated bathroom floor.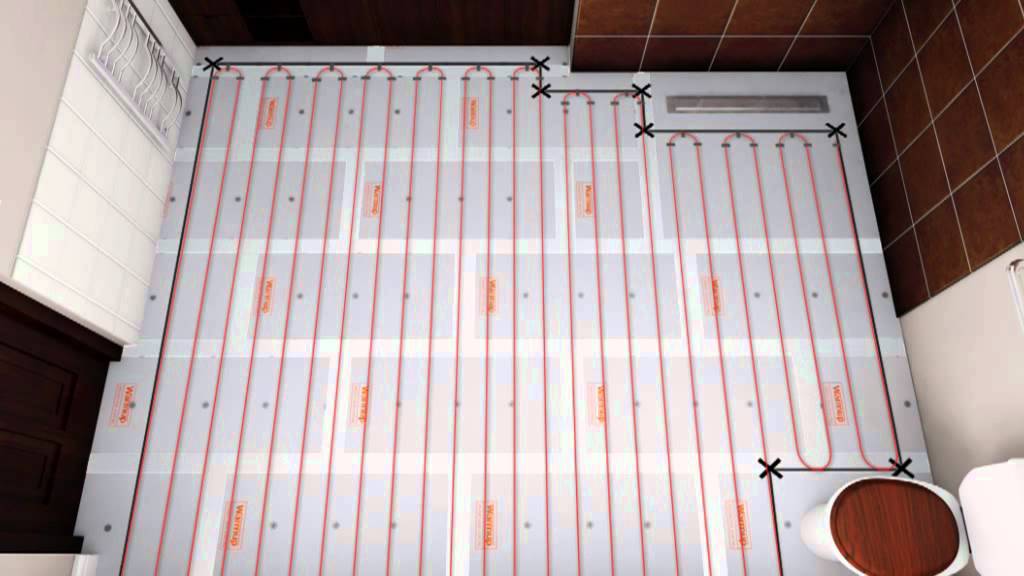 Under Floor Heating Faults
Sometimes under floor heating systems in Leeds fail and this can be worrying because the finished floor is fitted and the heating system no longer works.
We fault find electric under floor heating systems in Leeds and can advise if the element is broken, the thermostatic controller is faulty or the floor sensor is faulty, however from experience the most general thing I find is that the elements have not been screeded in and the tiler has added adhesive straight on top of the elements and this is not the way as the Mandarin said, over time if you do not protect the electrical element in a screed movement on the tiles transfers through to the electrical element, this over time wears it down till it breaks it and causes a short circuit which = a fault and no more warm floor.
We conduct Thermographic Imaging fault finding on Under Floor Heating Systems in Leeds to locate broken heating elements in the floor. Each case is different so if you have a faulty under floor heating element in Leeds the first stage is to have one of our electric under floor heating engineers visit to diagnose the nature of the fault, it could be the floor probe, it could be the controller, it could be like i said before its not been fitted right and the element has broken due to movement.
Can You Fix It ?
Yes We can! however, what you have to remember is, if they have not screeded any of the element in, on this occasion this break may be fixed, however the rest of the installation is also subject to the same ware and it will be only a matter of time before other breaks appear. In this case sometimes it is better to rip it up, start again, do it properly and learn from the experience to get it installed correctly. We offer a 25 year guarantee on our underfloor heating systems, ask yourself, did the tiler who did it cheap offer this ?
How much does Underfloor Heating Cost to run?
MPS underfloor heating systems, installation and running costs vary depending on the size and scope of the project, the desired heat out-put and the daily / seasonal usage of the system. To be honest wiht the price of energy now these figures are outdated in the chart, however its not rocket science to work it out as we can tell you the size of the element and when you combine the system with a floor probe and controller that monitors both floor and air temperature you can adjust it low to suit your environment and monitor it with a smart meter knowing its full capacity off set by lowering the temperatures to monitor daily usage, who said smart meters were bad ey! they let you monitor the power consumption and i sit here daily turning mine and and off to see the difference.
Energy Provider tariffs suited for Underfloor Heating, What do you recommend ?
The big leading energy firms offer economy 7 & economy 10 tariffs along with octopus Smart & Octopus Go tariffs these days, give your energy supplier a ring or look at specific tariffs if you rely mainly on electric heating i.e electrical underfloor heating, I know that Octopus do a new Smart tariff where you get cheap electricity (5 pence per kw roughly for a kwh) this tariff is suited for those that have underfloor heating as it gives you something like 4 x switching times during the day for a set duration to buy cheap electricity at a fraction of the silly rates they are on now. Energy prices suck at the moment but know this that there is specific tariffs for electrical users who have car chargers, solar batteries, night storage heaters and those with underfloor heaters, give me a ring I can advise you and I am here all day long happy to talk about it and point you in the right direction
Underfloor Heating Flooring Insulation ?
The most important thing that effects running costs is insulation. The insulation of the floor, roof, walls and windows. We offer 5mm and upwards to 50mm, we can also build up floor levels with this so the finished systems meet other higher floors

Height of the room ?
Rooms with vaulted ceilings need more energy to heat them up due to the higher volume of air. However underfloor heating is much more effective at heating rooms with high ceilings when compared to radiators. The heat of the radiators (convectional) tends to heat the top of the room before it reaches the bottom. Underfloor heating actually heats the area where people stand and sit making it more fuel efficient.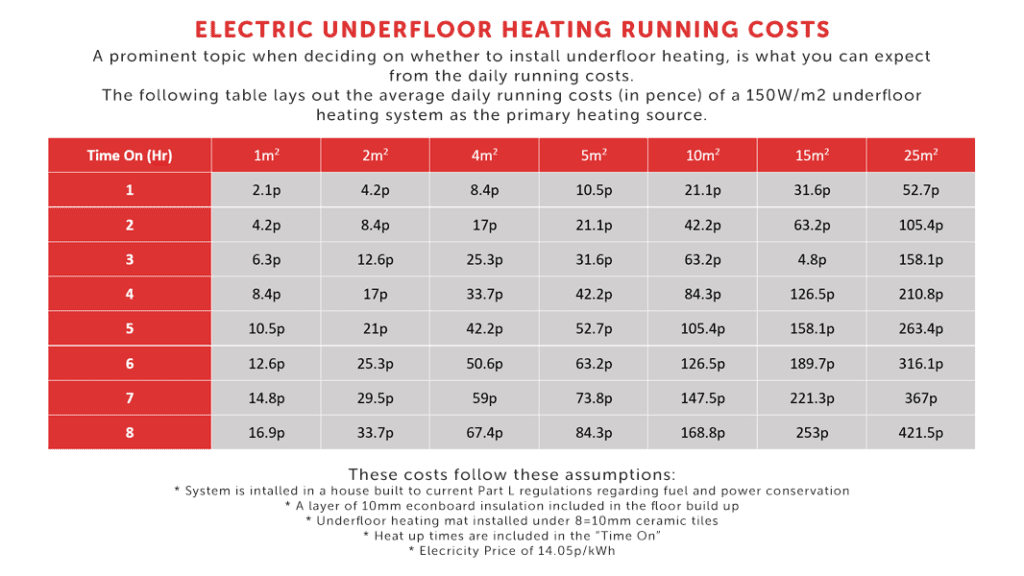 What Flooring is Suitable for Underfloor Heating and Why?
If you already have underfloor heating or are thinking about installing it, then you will want to know which floor types are safe and compatible to use with your new underfloor heating system.
There are different types of electrical underfloor heating systems, in terms of electrical systems there is a lose wire element system suitable for ceramic tiles, then our carbon infra red system suitable for engineered wood flooring finish.
Our infra red underfloor heating system combined with engineered oak warms up in 5 minutes as a primary heat source to the room so you do not need any radiators, our wifi thermostatic smart controller means you can set the temperature low and this will save on electricity as our fitted floor probe and controller keeps the room temperature regulated.
Remember the entire floor acts as a warming plate so the whole room heats up fast to a comfortable temperature, you even find you pets laid flat out on the floor because they love the heat source!
Can we use Laminate floor on top of underfloor heating ?
In a word, No!, It is really important that you know and remember which type of floor products can and can't be used with underfloor heating system, laminate cannot be used underneath it, this is because it cannot take the heat, and when the wife mops the floor and adds moisture to it this leaks into the joints, then the underfloor heating heats up, the joints pop open and once this happens, rip it up and replace it because anyone that fits this does not have a clue about underfloor heating.
Some types of finished flooring have been specifically designed and manufactured & tested to ensure that they can cope with the constant changes in temperature, We use Howdens Engineered Oak floor, you pay for what you get and we have never had any issues with it as such we give the warranty to our floors as we know quality last, buy cheap buy twice.
The reason Engineered wood flooring is suitable for underfloor heating is because it has a adhesive timber backing on it on the rear, on top of a quality finished facing finish this means Yes, it costs more than cheap laminate to buy so don't be surprised at this as like i say, you get what you pay for in this life. why would you bother to put a cheap finished product on top of such an installation to me is beggars belief so we advise accordingly.
Underfloor Heating and Hardwood Flooring
If you have underfloor heating and want hardwood flooring finish then you must use Engineered hardwood flooring, this has been designed and made in such a way to give the flooring dimensional stability on expansion.
This stability will allow your floor to expand and contract with the daily changes in temperature from underfloor heating. Never use solid wood flooring with underfloor heating. because planks of solid wood are not stable enough to deal with the changes in temperature and can become severely damaged.
Engineered hardwood flooring looks exactly the same as solid wood flooring once you have installed it. The top part of the floor is made from solid wood, but the underneath has base layers which give strength for any expansion and combined stability.
You will easily be able to find an engineered hardwood floor to complement you are or space and we have several choices to chose from.
There are many different species of wood, grain patterns, colours, plank sizes and surface finishes to choose from, see our image gallery.
Tips for using Underfloor Heating
Decide which underfloor heating system is best for you. Either water based or electrical.
Always have your underfloor heating system fitted by a professional.
The whole room or area should have under floor heating, not just part of it. Otherwise your floor may become damaged as it will be heating to different temperatures.
If you are using an underlay, make sure it is one that it specifically designed for underfloor heating systems.
If your underfloor heating is new, make sure the screed has fully dried and been tested correctly with a moisture meter before laying your floor.
Check with the flooring instructions on the correct way to install your particular flooring over underfloor heating.
Never use nails or screws during the installation of your floor. They could puncture the underfloor heating pipes.
Always leave an expansion gap of at least 10mm around the edge of the room, when fitting your flooring.
Never exceed the maximum temperature, as outlined in the underfloor heating and flooring guidelines.
The maximum surface temperature of your wood or bamboo floor should not exceed 26ºC.