Replacement RCD Fuse Box Installation Leeds
Part P Approved Domestic 18th Editions In Leeds 0113 3909670 | 0770 3020260
What Fuse Box does MPS Electrical Ltd Recommend
We always recommend the RCBO Fuse Box, why ?. Because if one circuit trips off it remains on one trip device only as opposed to the dual RCD fuse box where 4 or 5 would be isolated until the fault on the offending circuit is located and rectified.
How Do I Know If I Need A Replacement Fuse Box?
All Houses now need to have RCD protection which comes with modern Fuse Boxes, the Fuse Box also needs to be metallic and fire rated unless in a non combustible enclosure, give us a call and we can advise you but generally if your current fuse box looks like the one below you will know.
How Long Does It Take To Replace A Fuse Box
The whole process can take up to a day, fitting the fuse box can take anything from 2 to 3 hours and then a further 2 hours on site going around all the circuits and testing the installation which is mandatory so the certificates can be filled out correctly. Every fuse box I replace always comes with the certificate, i see so many customers that never received a certificate for the process.
Testing of Installations
We Inspect & Test all your property electrics whilst conducting the Fuse Box replacement to ensure safety as standard and the certificates we issue you have all the test results of the installed cabling recorded on the certificates.
Fuse Box Warranty
All Fuse Box Replacements come with a comprehensive 3 year parts and labor warranty. We fit quality fuse boxes and not cheaper models which we found issues with over time.
Electrical EICR Certificated Surveys In Leeds, Commercial, Industrial & Domestic.
Home Buyers Surveys
We are Home buyers, Home Seller's Electrical survey specialists. What does this mean ?.
It means if you are buying a house in Leeds, Bradford, Wakefield, York & Harrogate or Yorkshire in general we specialise in providing you with a home electrical report prior to the signing for the property. We photograph items within the property that we think is going to cost you money rectifying and provide you with a comprehensive written report with photographs and a certificate for the electrical inspection. We save home buyers and home sellers thousands in rectification costs with our electrical Home surveys.
We liaise with the estate agents on your behalf and submit our surveys in electronic PDF format so you can view it with ease and forward it on to your solicitors straight away and negotiate the costings prior to signing.
We inspect all electrical wiring within the home as part of the home electrical survey, we also inspect the fixtures and fittings as part of the home electrical survey process. We take photographs of faulty items and provide a comprehensive report for you with estimations on the price to correct remedial work.
call 0113 3909670 to book your Home Electrical survey in.

Home Sellers Surveys
Similar to the Home Electrical Buyers Survey we also provide the Home Electrical Sellers Survey in Leeds, Bradford, Wakefield, York & Harrogate or Yorkshire in general we specialise in providing you with a home electrical report prior to the sale of your property. We photograph items within the property that we think is going to need rectifying and provide you with a comprehensive written report with photographs and a certificate for the electrical inspection. We save home sellers thousands in rectification costs with our electrical Home surveys and provide the property with a clean certificated bill of health prior to sale.
If you are selling your home then as part of the process the potential buyer will require a full electrical survey of the home to check if any remedial work will be required, we specialise in home electrical sellers surveys whereby we provide you with a full written report, costings and certificate for the home.
call 0113 3909670 to book your Home sellers Electrical survey.

Landlord EICR Electrical Installation Condition Reports
We are specialists in Electrical Installation Condition Reports in Leeds, Bradford, Wakefield, York & Harrogate. We provide Landlord certificated Electrical certificates for rented properties.
Rental properties are subject to a 5 year fixed wiring text therefore a as landlord of a rented property you are obliged to ensure the building is safe for continued use for electrical safety. Residential home owners are subject to a 10 year certificate of safety. Commercial & Industrial clients are also bound to a 5 year electrical safety certificate.
The following tests are carried out on a Electrical Installation Condition Report in Leeds, Wakefield, Bradford, York & Harrogate.

1. Visual inspection of fittings
2. Continuity of earth conductors
3. Continuity of ring final conductors
4. Polarity
5. Installation resistance – to check for any arking or moisture between phase – phase earth
6. Earth loop impedance – to verify path of earth
7. RCD test to check tripping times and mA settings
The testers used are:

1. Voltage tester to measure Volts
2. Continuity tester to measure ohms
3. Insulation resistance to measure Mohms
4. Earth loop impendence tester to measure ohms
5. RCD tester to measure mS
Also the supplies characteristics are tested to ensure a good earth and path of fault current is present. These tests are called Ze and PSC (Prospective Short Circuit)
What is a Electrical installation condition report (EICR)?
A Electrical installation condition report (EICR) is a formal method of recording the findings of the periodic inspection in Residential, Commercial & Industrial installations.

The main purpose of a EICR is to report on the safety condition of an existing installation. It should describe the overall condition as either 'satisfactory', in which case no immediate remedial work is required, or 'unsatisfactory' which means remedial work is required to make the installation safe to use or safe for continued use.
Where a EICR describes the installation as 'unsatisfactory', the next thing to look at is 'Observations and Recommendations for Actions to be Taken'. This is where any departures from BS 7671 are recorded, and a code to indicate the urgency of the action needed is given. These codes are ranged from 1- 4 with 1 being the most serious working down to requires further investigation or non compliance.
Call 0113 3909670 to book you Electrical Installation Condition report

Portable Appliance Testing
We specialise in Portable Appliance testing, portable appliances is defined as any appliance with a plug top that plugs in. We conduct portable appliance testing in Leeds, Bradford, Wakefield, York & Harrogate for Residential, commercial & Domestic clients.
We offer discounts for clients with multiple properties or premises and will not be beaten on price.
All portable appliance testing comes with a certificate submitted to you in PDF format.
Portable Appliance testing Leeds
Portable Appliance testing Bradford
Portable Appliance testing Wakefield
Portable Appliance testing York
Portable Appliance testing Harrogate
Domestic House Rewires In Leeds. rewire Specialist Electricians In Leeds
If you have found this website then you are already aware you may need a Full Home Electrical Rewire.
We will take you through the reasons why, the warning signs you may need a full rewire, what is involved in a Home Electrical Rewire, and finally the cost's involved detailing the process of how life will be during the Home Rewire.
We have over 24 years experience in Home Rewires, we know the pitt falls, the level of work required to complete a quality home rewire so we present ourselves to you to show you what is involved.
Why Do We Need A Home Electrical Rewire ?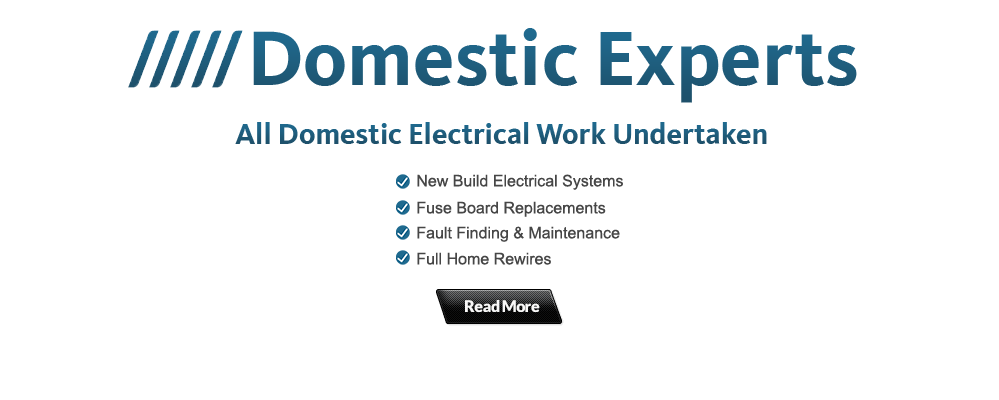 The reason why you need a home electrical rewire can come from several sources. You may have had a Electrical Installation Condition Report conducted or Electrical Home Survey and the report stated a Full House Rewire was required. You may be selling your home, buying a home, rewiring your current home or be looking for a relative that needs a full electrical rewire.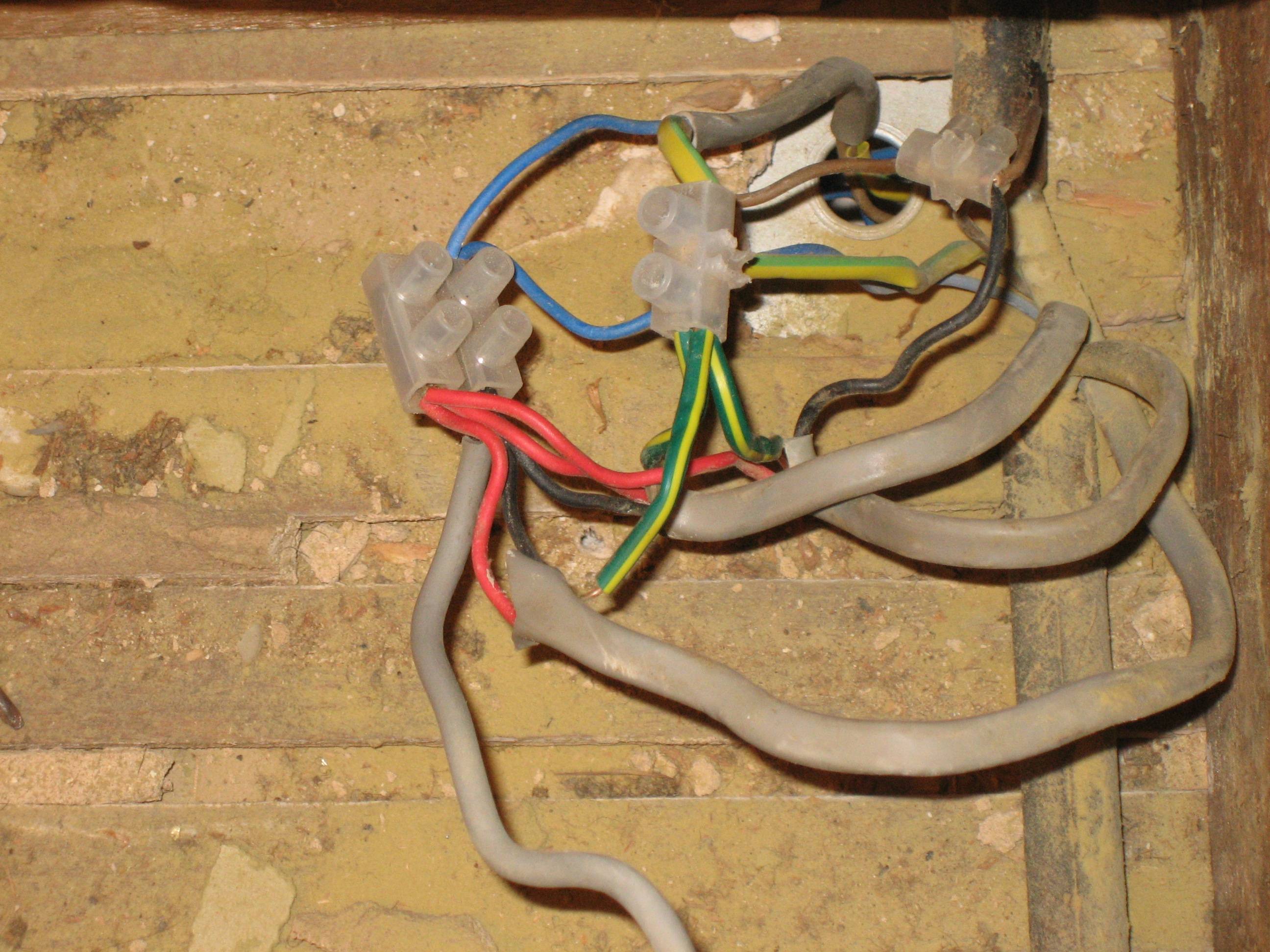 Either way let's start at the beginning and look at the three most common reasons why you need a full electrical home rewire.
DIY wiring changing the original electrical layout of the original wiring to a state which is beyond economical repair and dangerous.
Lets face it, when DIY husband's, family friends anyone without electrical training gets involved with electrics it can be a recipe for disaster. Not only do they end up altering the original electrical installation but sometimes they adapt it that much and that badly over time that electricians have to draw a line under it as it is beyond economical repair to actually put it right resulting in the advice that a full rewire is required to fix it.
This combined with older wiring can mean the advice to rewire is advisable to ensure compliance with the latest wiring regulations BS7671 and peace of mind.
Old rewirable fuse box – commonly known as the Wylex BS3036 fuse box. The presence of this is a indication the property is 1960's to 1970's wired. It does not necessarily mean you need a full rewire tho.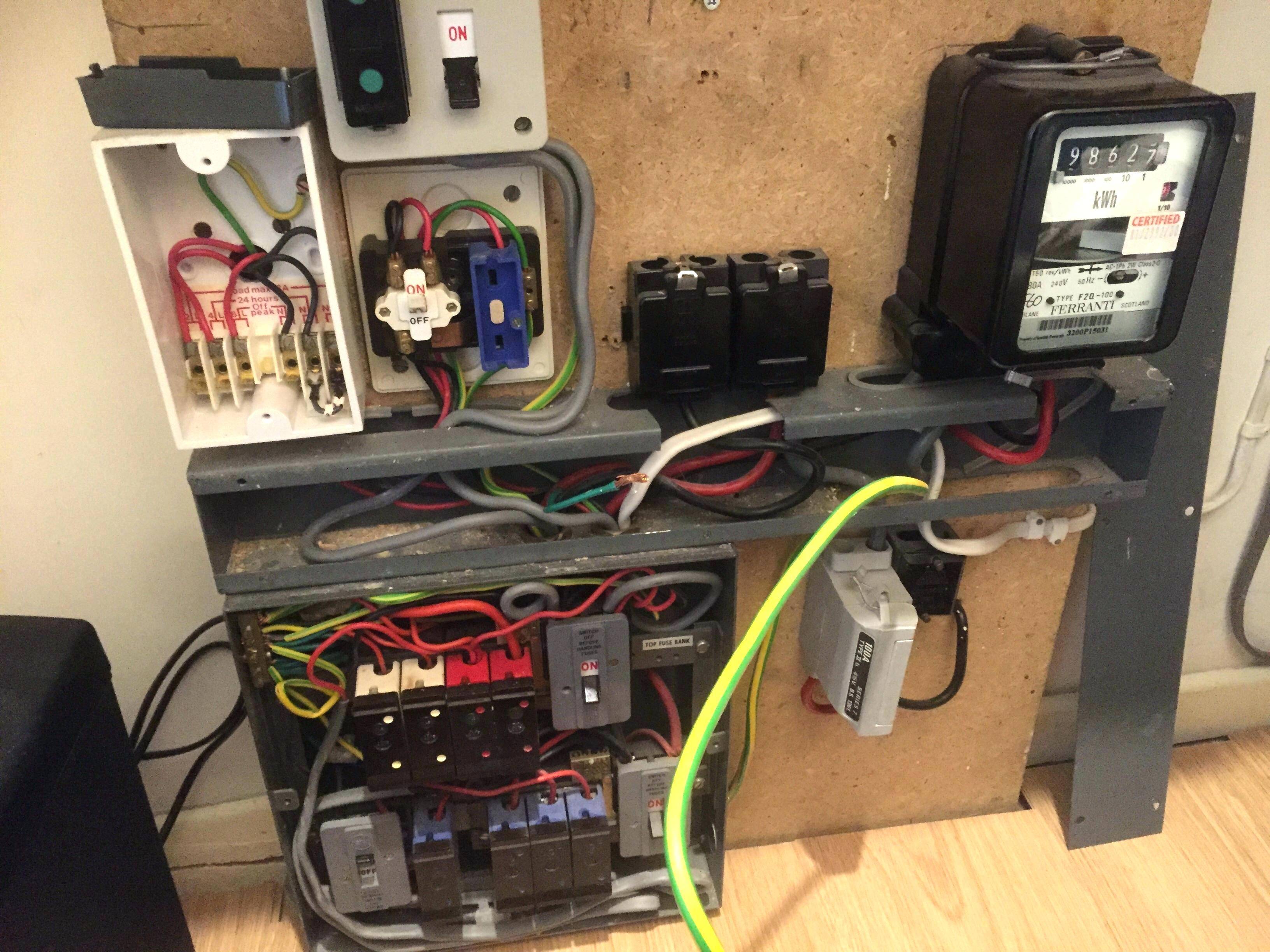 You may get away with a replacement RCBO or Dual RCD Fuse box if the wiring is PVC and each cable for lighting and power has the presence of the earth cable within it also commonly known as the CPC.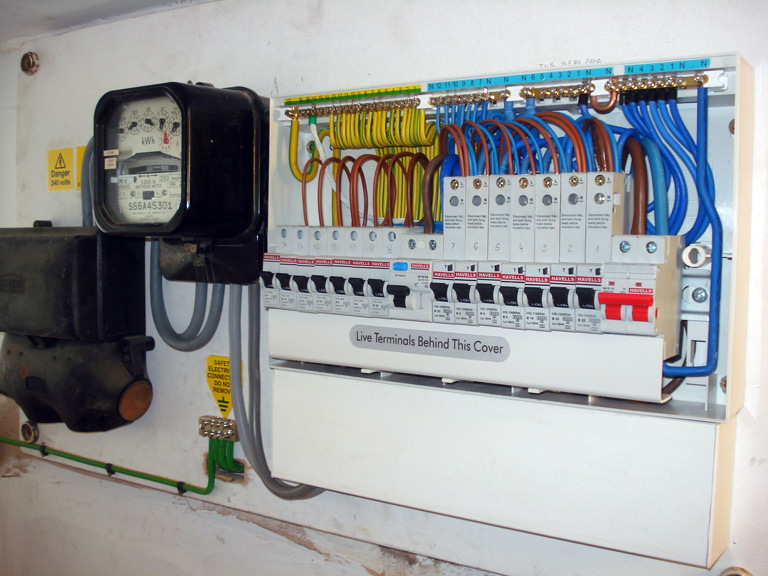 Now listen up, in the 1960's when electricians wired the lighting circuits in houses the PVC cabling did not always have the earth core present in the twin and earth cable, this means your current pvc wiring may be OK or may not be OK resulting in just the lighting circuits being rewired.
Old minimum standards of Electrical points to today's modern living standards.
How many sockets & lights you need in your new Home.
Back in the good old days the 1960's when rock n roll was king and mobile phones did not exist you got a very simple electrical rewire package consisting of one socket in the corner of the room in every room and one light switch and one light pendant. This was what we call the "old school" rewire spec. So if you have a house that has one socket in one room only and you are scratching your head as to the reason why you have such a limited amount of sockets per room then this is the answer. Either that or the person rewiring it after the original spec was very tight and like extension leads a lot…
Today's electrical minimum standards for the amount of sockets and lights you need is somewhat different, literally. Have a look behind your TV now as you see it, I bet you have one or two sockets with a long extension lead behind the TV because you have a sky box, a DVD player, surround sound system, dongle box, play station, Xbox, hard drive, landline phone power adapter all plugged in, yes?, read on. Lets take a moment to add these up, 8 power points equating to 4 x twin sockets actually required behind the TV alone.
Extension leads can be dangerous and we do not advise the use of them to compensate for the lack of sockets in any circumstance. Any reputable electrician will snag this on a Home Electrical Survey or Electrical Installation Condition report because if you think about it, the extension lead is rated at 13 amps only and if you plug8 appliances into it they can get very warm. You should not reply on the 13 amp fuse in its plug top to blow before you fix the problem.
What happens during a Home Electrical Rewire
What to expect.
The house carpets will be lifted up in each room
to gain access to lift the floor boards or chipboard floor underneath.
Wall chases from the ceiling down to light switches and sockets will be channelled in to a depth of 50mm if possible.
Wall chases up from the skirting boards to the sockets will be channelled in.
Light switch and socket back boxes will be chased into the brick work. Plastering up will be required!
Dust will be created and it will go everywhere no matter how much you dust sheet items.
Power to sockets and lights, cookers, showers could be redundant during the rewire.
What a quality Electrician conducting your Home Rewire can do to minimumise disruption during the Home Electrical Rewire so please request this in advance from them.
Shrink wrap furniture items and electrical items during the course of the rewire to protect them, yes this means living without them but better to protect them rather than damage them.
Advise you to remove as much furniture from the home as possible to speed up the process of the Home Electrical Rewire. You are paying for the rewire, if the Electricians are spending 3 hours a day moving furniture back and forth that is 3 hours of work not being done on the Home Rewire each day, this adds up. Utilise garage's and family and friends.
Possibly advise you to move out during the course of the rewire as it is by far no means a pleasant environment to live in whilst it is going on, most of the time for families this is unavoidable so they have to grit their teeth and bear it through. Moving out will speed up the Home Rewire process.
A decent electrician will leave the existing sockets and lights power on each day and install a new system while leaving electricity on, this can be done in stages such as working from the top floor down ie install the upstairs sockets on its own circuit then plan a changeover day to kill the old socket circuit and rip out the wiring thus energising the new circuit at the same time so the customer is not without, same goes for light too. Work from the top down is our advice that way you are working in stages.
How Much Does a Home Electrical Rewire Cost ?
The ultimate question on a Home Electrical Rewire is cost, How much does it cost to rewire the home and what should we expect as a general ball park specification in terms of how many sockets, light switches you get for the money you pay. Below is two standard prices derived from the industry, both prices are general home rewire specifications based on two different house sizes to give you an idea.
Emergency Electricians In Leeds 24/7
MPS operate 24 hours a day Severn days a week as emergency electricians in Leeds, We fault find troublesome electrics, tripping RCD'S, Our on call 24 hour electricians in Leeds have fully stocked vehicles at all times and high access ladders to disconnect troublesome alarms that will not silence. We carry spare sockets, switches,fuses, RCD'S, MCB'S Fuse boxes. You name it we got it covered!