Electrician Leeds, Approved Electricians Leeds. Domestic Electricians Leeds.
https://www.mps-electrical.com/underfloor-heating-leeds/
https://www.mps-electrical.com/underfloor-heating/
Leeds – Bradford – Wakefield – York & Harrogate
Call 0113 3909670 | 0770 3020260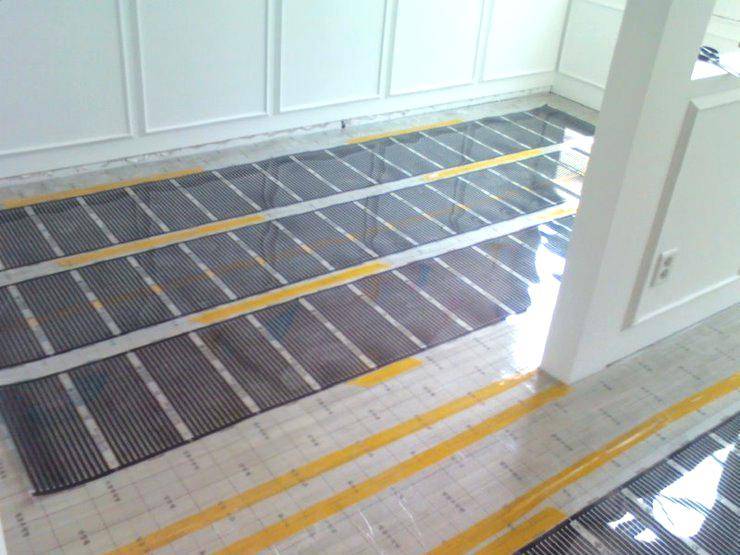 We are electric under floor heating specialists in Leeds.
We install under floor heating on concrete and screed sub floors and timber sub floors. All our under floor heating systems installed in Leeds are custom made to suit the area in which they are installed.
All of our under floor heating systems come with a range of different thermostatic controllers ranging from standard controllers to SMART programmable electronic controllers that you can operate from your mobile phone.
Different sub floors within the home call for a certain type of under floor heating system, these vary in overall wattage output to heat the final finished flooring whether it be wooden, vinyl or tiles.
This is why when selecting underfloor heating systems for a room it is best to contact a specialist who can advise what type of under floor heating system you require based on the type and usage of the room it is to be installed in.
Bathroom areas which are to be tiled require a specific under floor heating system. This is because a bathroom is a wet area and as such the under floor heating system elements are to be protected from water ingress. In these environments we can install a lose wire under floor heating system in Leeds and enclose the elements in a protective screed. This is advised so the floor tiler does not damage the under floor heating elements with his trowel when fixing the tiles down to the floor, we have seen this done many times before!.
It does not matter if the sub floor is wooden as MPS can lay a special screed to encase the element into its own special screed suitable for wooden sub floors.
Some tiles namely Travertine can be especially thick floor tiles, as such we our varying out put wattage range of under floor heating lose wire cables can compensate this so the heat penetrates through the tiles quickly and effectively. Combined with our electronic controllers the end results are a fully heated bathroom floor.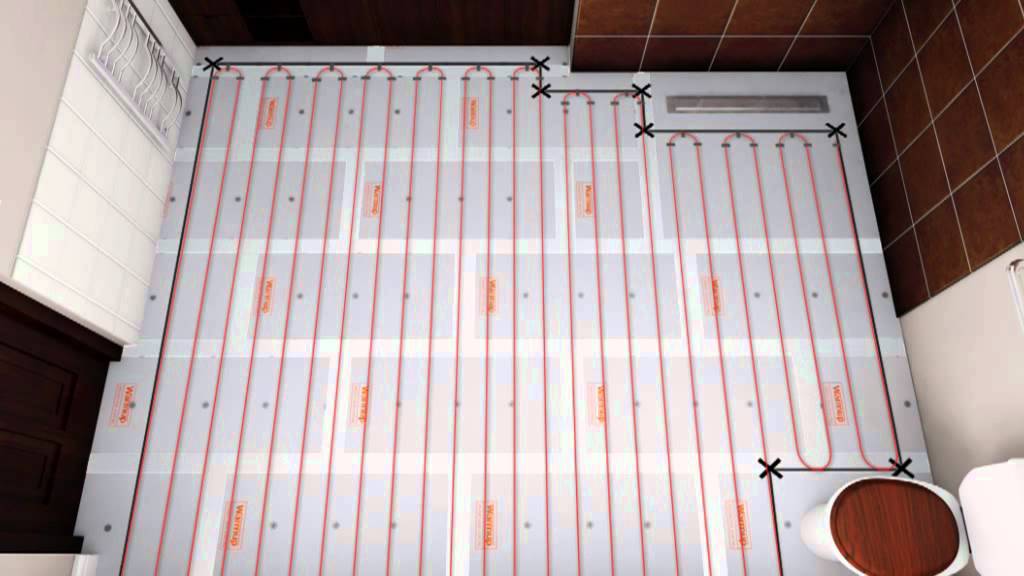 Under Floor Heating Faults
Sometimes under floor heating systems in Leeds fail and this can be worrying because the finished floor is fitted and the heating system no longer works.
We fault find electric under floor heating systems in Leeds and can advise if the element is broken, the thermostatic controller is faulty or the floor sensor is faulty.
We conduct Thermographic Imaging fault finding on Under Floor Heating Systems in Leeds to locate broken heating elements in the floor. Each case is different so if you have a faulty under floor heating element in Leeds the first stage is to have one of our electric under floor heating engineers visit to diagnose the nature of the fault.
How much does Underfloor Heating Cost to run?
MPS underfloor heating systems, installation and running costs vary depending on the size and scope of the project, the desired heat out-put and the daily / seasonal usage of the system.
Insulation
The most important thing that effects running costs is insulation. The insulation of the floor, roof, walls and windows.
Height of room
Rooms with vaulted ceilings need more energy to heat them up due to the higher volume of air. However underfloor heating is much more effective at heating rooms with high ceilings when compared to radiators. The heat of the radiators (convectional) tends to heat the top of the room before it reaches the bottom. Underfloor heating actually heats the area where people stand and sit making it more fuel efficient.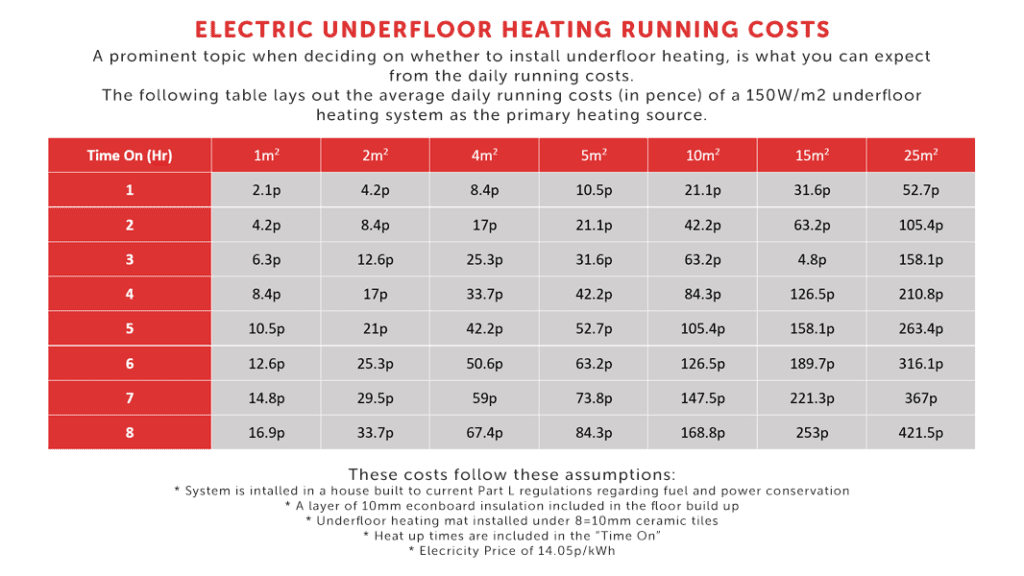 What Flooring is Suitable for Underfloor Heating and Why?
If you already have underfloor heating or are thinking about installing it, then you will want to know which floor types are compatible.
There are different types of underfloor heating systems: electric and water. Although they work in slightly different ways, they both heat the floor from underneath. It is really important that you know which type of floors can and can't be used with underfloor heating system.
Some types of finished flooring have been specifically designed and tested to ensure that they can cope with the constant changes in temperature.
If you use the wrong type of flooring then it may become damaged and irreparable as it will not be able to withstand the heat from underneath and the joints will split open. Here are some types of flooring that we would recommend using with underfloor heating:
Underfloor Heating and Hardwood Flooring
If you have underfloor heating and want hardwood flooring then you must use eEngineered hardwood has been designed and made in such a way to give the planks of flooring dimensional stability. This stability will allow your floor to expand and contract with the daily changes in temperature from underfloor heating. Never use solid wood flooring with underfloor heating. because planks of solid wood are not stable enough to deal with the changes in temperature and can become severely damaged.
Engineered hardwood flooring looks exactly the same as solid wood flooring once you have installed it. The top part of the floor is made from solid wood, but the underneath has base layers which give strength and stability. You will easily be able to find an engineered hardwood floor to complement you are or space. There are many different species of wood, grain patterns, colours, plank sizes and surface finishes to choose from.
Tips for using Underfloor Heating
Decide which underfloor heating system is best for you. Either water based or electrical.
Always have your underfloor heating system fitted by a professional.
The whole room or area should have under floor heating, not just part of it. Otherwise your floor may become damaged as it will be heating to different temperatures.
If you are using an underlay, make sure it is one that it specifically designed for underfloor heating systems.
If your underfloor heating is new, make sure the screed has fully dried and been tested correctly with a moisture meter before laying your floor.
Check with the flooring instructions on the correct way to install your particular flooring over underfloor heating.
Never use nails or screws during the installation of your floor. They could puncture the underfloor heating pipes.
Always leave an expansion gap of at least 10mm around the edge of the room, when fitting your flooring.
Never exceed the maximum temperature, as outlined in the underfloor heating and flooring guidelines.
The maximum surface temperature of your wood or bamboo floor should not exceed 26ºC.