GRP Flat Roofing Installations Leeds MPS Ltd 0113 3909670 – 0770 3020260

GRP or Fibreglass roofing is one of the best, reliable ways to weatherproof flat, pitched or barrel-vaulted roofs in the united Kingdom.
GRP Fibreglass roofs are low-maintenance and quality materials make it one of the most cost-effective roofing methods available when applied and installed correctly by a qualafied installer like us.
Fibreglass roofing consists of wetting out layers of glass mat on the roof of the building. When cured, your roof should have strength and provide a continuous waterproof barrier across the surface of the roof throughout its life. One layer of 450g glass mat is standard for a roof with no footfall traffic, 600g glass mat should be used in areas of light footfall and 900g or two layers of 450g for balconies or areas of heavy footfall. This is our recommendation. We also install anti slip coating to our finished product just in case.
When the resin has cured, the Roofing Topcoat can be applied. This not only adds the choice of the customers chosen finished colour to the roof but also acts as a tack-free all weather proof sealant to secure the fibreglass underneath it. If there is a requirement for the roof to be walked on after the build, we recommend that a non-slip topcoat is used which we can apply at the finishing stages of the installation.
Once cured, the roof will be seamless and waterproof. It will also be virtually maintenance free. Unlike other roofing materials, the fibreglass will not rot or smell and is less likely to gather organic moss. If needed, the roof can be easily cleaned with a mop or hose or simply brushed.
Advantages of a GRP Flat Roof
Fibreglass Roofing offers many benefits including;
Safer Installations: GRP Roofing requires no complicated machinery and in most cases does not require heat equipment resulting in safer installations and reduced risk of on-site accidents
Durability and Strength: Most fibreglass roofs have a life expectancy of 20 years once they have been installed correctly
Flexibility: Choose from a variety of trims to suit the roof build. Materials can also be easily cut to suit the shape of the roof
Waterproof: Has no seams
Resistant to weathering: Waterproof Topcoat finish
Easy to repair and maintain: Brush or hose the completed roof to keep it clean
25 year guarentee
One roof for the entire lifespan of the roof
Wide Variety of Colours
Unlike felt and rubber roofs, you can choose from a variety of finished top colours to the GRP, The pigment (colour) is mixed into the final layer of topcoat itself, rather than being painted on top, so will never peel off.
MPS Ltd are trained GRP roof installers in Leeds & surrounding areas, we are Tricel trained and accredited approved GRP Roof installers based in Leeds who can replace OSB3 roofs and finish with a GRP glass fibre roof product with a 25 year guarentee,
Problems with Felt Roofing ? Switch to our GRP Product.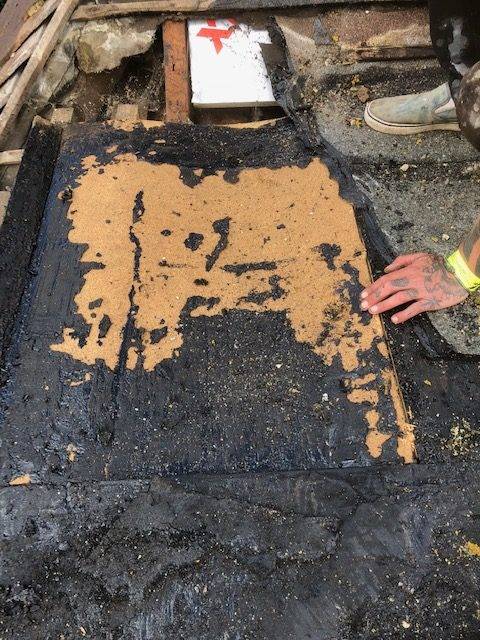 As a roofing material, felt has been used for around 75 – 80 years in the UK, residential and commercial business premises. It's affordable, lightweight and relatively easy to install, and it does a good job at keeping water out.
Unfortunately, older felt roofing does not breathe very well, and even modern felt allows condensation to build up as the building emits moisture and heat over time. Once you have layers of moisture within the roof, which are being warmed frequently and cooled, you will see mould and rot start.
So if you are planning a new project or replacing a older roof solution we can offer the following GRP replacement roof & OSB3 timber roof sheets with our all inclusive joinery & GRP roofing solution all backed up by our Tricel 25 year guarentee installer scheme.
What we do
GRP Roofs on new extensions Leeds & surrounding areas
GRP Roofs on sheds Leeds & surrounding areas
GRP Roofs on Summer houses Leeds & surrounding areas
GRP Roofs on garages Leeds & surrounding areas
OSB3 Replacement Roofs & New Installations
Wide Variety of Colours
Unlike felt and rubber roofs, you can choose from several finished colours to our GRP range of roofs. The pigment (colour) is mixed into the final layer of topcoat itself, rather than being painted on top, so will never peel off.
Call us today on 0113 3909670 | 0800 7797472 | 0770 3020260